June passed me by very, very quickly… how about you?
We were on holiday at the beginning of the month and it just seems to be a life time ago…
June arrived in a blaze of sunshine and left under a black cloud. My friend Caro says that our summer is hiding in Sardinia. But seriously… where did the sunshine go? It's all raincoats and welly boots here.
I've been trying to keep to my goals for the month and have been making a huge effort to drink more water. I was hoping to take part in the Robinsons #DrinkMoreWater competition but what with one trauma and another I just didn't get around to publishing.
First trauma was this…
No, it wasn't broken thank the lord and healed magically within days. But the two trips to A&E were really stressful and really shook me. The reality of not being able to protect Little Miss from everything has really knocked me for six. You take it for granted that watching your kids play is enough… but not when there are paddling pools and the urge to "jump in muddy puddles" knocking about. 
Good thing we went to that gin distillery in the lakes to calm my nerves…
The second trauma… I finally had my surgery!
So not really a trauma as such because I knew it was coming, but with the surgery being keyhole and fairly minor I had managed to lull myself into the false pretence that it was going to be quick and painless. Four days on and I am still very sore, on minimal painkillers but am literally forcing myself to get moving so my stomach muscles don't cease up. I knew I'd have four wounds… but I didn't account for the swelling, bruising or injection / cannula sites.
More about my surgery in the coming days – I've written a series of blog posts as I've gone along as a guide for anyone else suffering with gallstones or needs a little reassurance about their upcoming Laparoscopic Cholecystectomy.
Father's day came and went, and a lovely affair it was too. We took part in a great review campaign with Mumsnet as part of #teamsoft…
… and had some gluten free slimming world friendly blueberry, chocolate pancakes. Nom.
And then of course the weekend after this – there was Britmums LIVE.
My friend Karen and I started the weekend with a stunning afternoon tea aboard a big, red, double-decker bus… more on this in another post.
All I'll say for now is that it was as scrummy as it was novel and I wouldn't hesitate to go again or recommend to you!
It's been another busy old month… how have you been? 
Thanks so much for reading: A Little Bit Lately…
Love and sunshine wishes,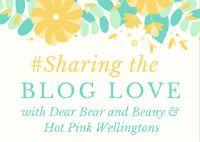 (Visited 1 times, 2 visits today)