I know I say this every single month – but seriously dude, where did that month go??
I feel like there are not enough hours in the day at the best of times but May was a particularly busy month here on Vista Street… and June is set to be even busier.
Last month I set myself a few goals that I was hoping to have at least semi-achieved by the time I turned the page on my calendar again…
Make my own at home…

With the exception of sausages, yoghurts, milk and gluten free bread – most of the food that we have eaten this month has been made at home. We went to Geronimo last week and stayed over at the Premier Inn around the corner from Tatton Park the night before… we went to the lengths of taking our own porridge to eat in the room for breakfast and we took crackers, oat cakes and Primula (okay, a little bit cheaty) cheese for our packed lunch the following day. Along with lots of apple and bananas.
It was cheaper – but doing this is also a lot easier than asking 'is this gluten free?' ten times per day.
We ate out twice this month. Once the night before Geronimo and once whilst we were on holiday in North Wales. And I ate out at Ikea with a friend one evening too… I am the last of the big spenders!
De-clutter and embrace simplicity…

Ummm… this is a working progress…
Get to know my new camera…

I was really starting to get to know my new camera and I was really getting along with it and my nifty fifty lens… until an unfortunate event in Beau's Tearoom in Beaumaris involving a table, my camera, a toddlers foot and the floor.
Yes, you can weep. I nearly did. It was an accident. Totally. Completely.
Camera is fine. Lens is not. But here is a shot I managed to get a few moments before I was unable to use my camera…
More family fun… for free.

Half way there with this. During our gorgeous week in North Wales we did a lot of walking, playing in parks and on the beaches. But we did have a few treats. We paid to go to Pili Palas and to the Welsh Mountain Zoo.
Neither of these were very expensive because Little Miss was free as she is under 3. We were so lucky with the weather too so finding things to do and games to play was easy.
We also entertained ourselves at home in the garden in the glorious sunshine we've been having. Water, bubbles, a paddling pool full of plastic balls and rubber ducks… A two year old's dream! All things we already had in the house too so it didn't cost us a penny.
Oh and her welly boots. Can't forget those. She seems to be surgically attached just lately.
Mr Vista also made Little Miss a shop in our front room to say thank you for an early father's day gift she presented him with the day before… all will be revealed in another post!
More outfit posts…
Done! I really enjoyed doing these this month and hope to be able to publish at least one a month.
This one: It started with a skirt…
And this one: What I wore to Haydock Race Day
All in all, not a bad month for getting stuff done. Now, over to June… I've had to think long and hard about what I want to get out of this coming month:
Goals for June: 
Buy a 12 week countdown at Slimming World and reach my target weight before the 12 weeks are up. All being well, we'll be moving by the time the 12 weeks are up and I'll be unable to afford both my Slimming World and gym membership with all the fees a house move creates. Target members weigh in for free!
Lower my target weight by 5 pounds. I'm pretty happy with the way I look right now and I think that another 10 or so pounds should take me to the comfortable size 12 that I want to be… I want to retain some of my curves.
Have a toy cull – there are too may toys in this house and they drive me crackers. There are a few good homes that they could go to and where I know they will be gratefully received.
Make an effort with my Dad. It's father's day this month (just another little reminder!!) and other than a token gift and a card I don't really do much to celebrate it. This year I plan to make the occasion memorable somehow.
Get crafty. Little Miss has lots of dog-eared, pre-loved magazines lying about the house – remnants of her Tuesday treats from her day with her Papa. I plan to chop all of the pictures out in the hope that she can make a fun glittery-glue-laden masterpiece of a scrap book.
So there we have it – my goals for June. What are yours?
Thanks for reading: Goals For June
Love and scrap book glitter,
Linking up with Beth again this month: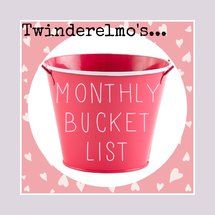 (Visited 16 times, 1 visits today)