Before you read, I've created a little play list of the songs I've been listening to this month. You can find it by clicking on the YouTube symbol below.
I feel like it's been an age since I've sat down and written down exactly what is in my head. That is how Life on Vista Street initially started out and that is how I'd like it to continue to be in part.
I don't blog to make a living. I mainly do it to be part of an amazing community that I found whilst I was on maternity leave and a little bit lonely. A year and a half on and the friends that I made have now turned into closer friends that I speak to in text or online everyday.
My little blog that started out with just 12 readers (thanks Mum!) has evolved into a little bit of paid writing, a few freelancing gigs and a whole load of reviews, recipes and self discovery. Who knew I had enough confidence to write a personal style post?
So in the style of two of my many bloggy friends, I thought I'd share with you 'A Little Bit Lately' post with 'My Month in Pictures'.
The end of August saw me visit the Hotel Football for a bloggers event that I was invited to by the one and only Donna of Polkadot Pink. We ate, drank and merrily decorated cupcakes with the help of The Princess and the Pea Cupcakes.
It was a really lovely way to see out the summer with a BBQ on the roof of a hotel with an open top roof… until this happened…
Typical British summer!
Little Miss Vista, Mr Vista and I had the most gorgeous day out with some of our close family members to the Cheshire Dairy Farm.
I've never ever been before and was impressed at how nice (and clean!) it was for somewhere that is free. Little Miss Vista – and lets not lie – I enjoyed a vanilla ice cream with a choclate waffle cone and a stick of fugde.
Om nom nom… not Slimming World but worth the syns!
The beginning of the month saw Little Miss Vista discover a love for bobbles, particulaly in pig tails, and Toy Story. Especially Woody!
At this Mr Vista made a trip up into our loft to retrieve the pull-string woody doll that I bought him in Disneyland Paris when we got engaged. He was brand new and boxed and over a decade old… but now he is loved and belongs to someone… with his very own shoe box bed and muslin cloth duvet!
September saw a huge blogging success milestone for my good friend Karen and her Mini Travellers at the MADs and baby joy for the gorgeous Heledd of Running in Lavender.
Although we won't celebrate our wedding anniversary until well into October, we managed to escape for one night, just us, the second weekend in September to celebrate.
Mr Vista surprised me and booked the Novotel right in the heart of Liverpool City Centre (and even DROVE!). Our view over the docks was stunning, especially at night, and the hotel was brand new, plush and so quiet.
It was a wonderful night.
We ate far too much, drank a little gin and shopped til we dropped!
September and our return from Liverpool saw some pretty imaginative play from Little Miss Vista too. She's two months away from being two (waaah) and is now staring to understand the words that she can say. Such examples are 'different' and 'everywhere'.
Example.
September also saw Vista Street ravaged with snot once more. Except this time, it didn't just strike Little Miss Vista… it go us all.
This meant lots of comforting (slimming world) recipes, cuddles, slippers and comfy clothes.
September was also the month that I welcomed my pre-pregnancy jeans and wedged boots back into my daily wardrobe, a mix of sun hats and cute fleece jackets for Little Miss Vista as I have no idea how to dress her for this weather and some fun new slimming world recipes to keep me spurring on for my two stone certificate.

Towards the end of this month Mr Vista has discovered his new best friend. His SteelSeries Stratus mobile gaming controller… it is apparently the best thing since sliced bread and he is now enthralled in all of the vintage arcade games available on the iPad.
Whereas I'm always thrilled to signed for the latest Degustabox… post including contents and syn values to follow!
And so, on the eve of the last day of September I thought it best we had a catch up… So how have you been? 
Thanks so much for reading: When September Ends… and if you liked my play list don't forget to follow me on YouTube too!
Love
Linking up with:
div align="center">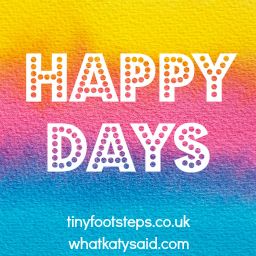 (Visited 30 times, 1 visits today)